Fitzroy Quarter, Melbourne



Fitzroy Curiosities...

Fitzroy is one of our regular stomping grounds in Melbourne. Always changing and evolving. With its close vicinity to the city's central business district, Fitzroy is going through a coming-of-age similar to New York City's Brooklyn or London's Shoreditch. Previously, Fitzroy was a down-and-out inner city suburb with high unemployment and state housing tower blocks looming over run-down Victorian terrace houses. But like many inner city suburbs, the lure of a short commute and low rents attracted first the artists and students then the young designers and fashion people, shortly followed by cafes, restaurants, gallery and boutique shops of all sorts to service the new crowd. Melbourne's first suburb is being rapidly transformed from its working class/multiethnic immigrant background into a rich people's playground, but the change is far from complete and one can still enjoy the best of both worlds.

Fitzroy's main drag, Gertrude Street, is peppered with luxury shops with eccentric philosophies for those shoppers who crave something different for their wardrobe. The E.S.S. Laboratory run by design duo from Japan, Hoshika Oshimi and Tatsuyoshi Kawabata, create clothes with conceptual ideas in mind. Their designs are eccentric and surreal, yet still wearable; Oshimi and Tatsuyoshi strive for something different than the commercial offerings. On the same street is Australian luxury skincare brand Aesop's Fitzroy store. Aesop has a policy of being highly selective about where they locate their stores, only choosing neighborhoods with eclectic mixes of creative and street culture. Their products started off as strictly luxury skincare, but now cater to basically all facets of living – from bathroom deodorizers to dog shampoo – advocating their use with "a balanced diet and a healthy dose of stimulating literature." The second store of Vintage Emporium "tarlo & graham" (we love the lower case) recently occupied the old INDUSTRIA premises offering a more gallery-meets-vintage experience. Straying away from the beaten path behind Smith Street are old factory buildings while on Smith street itself are equally glimmering gems, like Angelucci 20th Century. This furniture store specializes in vintage 1950s-60s furniture sourced from Denmark and France, and also makes their own furniture inspired by the era. On parallel Brunswick Street Magic Lantern Studio's stuff is easier to fit in the carry-on than vintage furniture, quizzical looks from friends and perhaps Customs will ensue when bringing Victorian slides and light-boxes, one of the plethora of hanging puppets, and optical toys out of this store back home. Nonetheless, Magic Lantern Studio is a prime example of the eccentricity, creativity, and thought out, complete ideas that go into a Fitzroy boutique.


tarlo & graham, Gertrude Street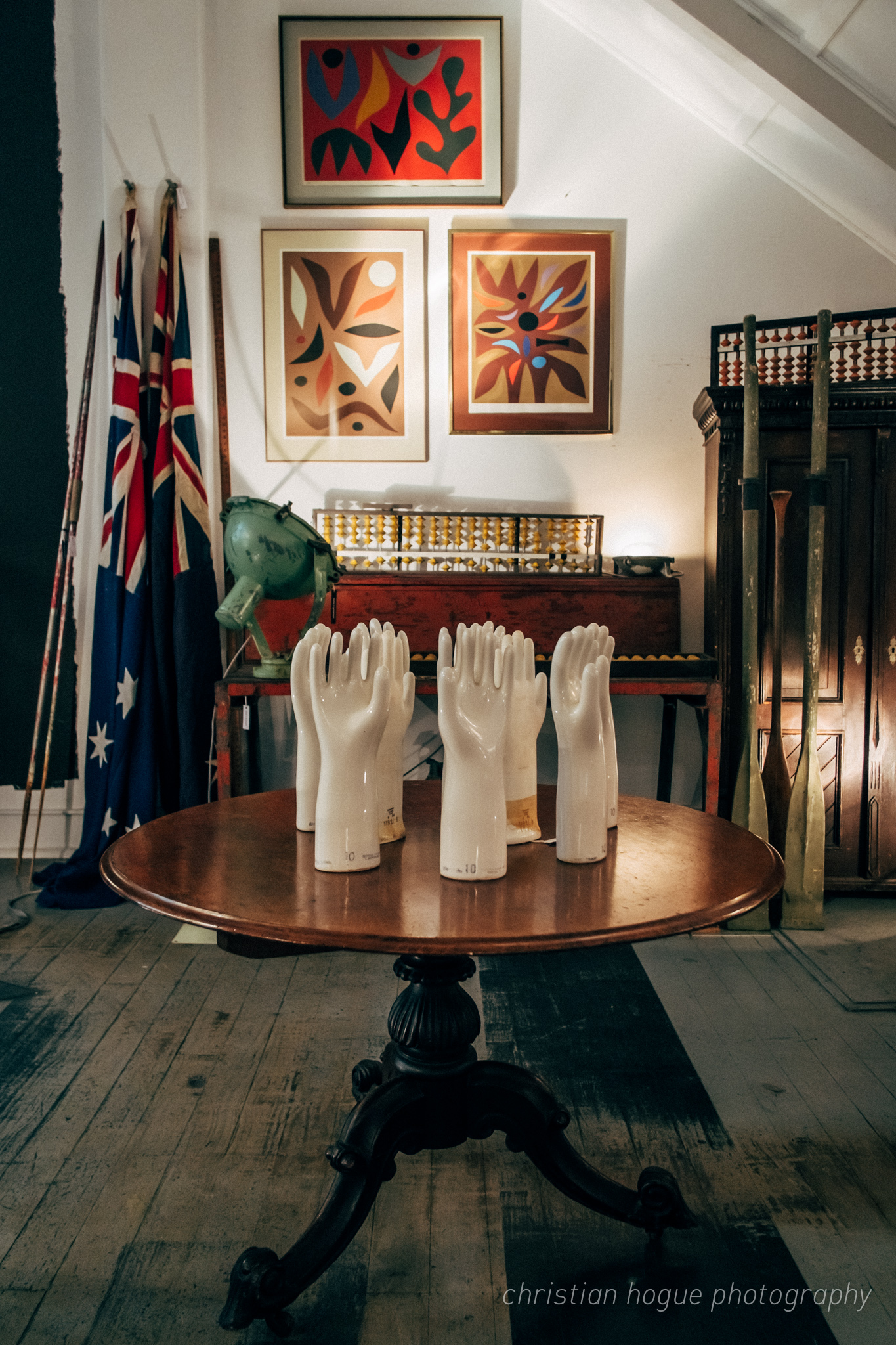 Half the fun of exploring is building up a thirst and an appetite. Fitzroy abounds in great cafes and foodie clouds of heaven. It's worth checking out Mina.no.ie (which means 'everybody's home' in Japanese) for something in between contemporary Japanese and feel-good American. Started up by the owners of Cibi, where other than food they sell Japanese confectionery and Danish furniture, they took the feat of converting a massive auto repair shop into an intimate dining area and won. Their Japanese curries that are just as drool-worthy as the mens object shop Epitant that shares the same high ceilinged space. One ought to have breakfast at De Clieu (mainly the poached eggs on sourdough and kismet relish), but their coffee is the real draw; beans are hand-picked by the owners who judge the Cup of Excellence (like the World Cup of Coffee). But, as vacations go, one probably has a thirst for more of the shaken and stirred types of drinks; for cocktails, The Everleigh has a whole list of must-drinks. This intimate cocktail club, if timewarped to the 50s would fit in swimmingly, from the interiors to the cocktails. The man behind the interior design, Sasha Petraske, is the same guy that does Milk and Honey in New York, and the cocktails pack an old-school attitude into every drink they make. The juices are freshly squeezed to the hour, the ice is chopped from a block, spirits are poured straight out of the bottle with no speed pourer assist so there's no risk of contamination, and of course, each drink is made with top shelf stuff to balanced perfection. Before an Everleigh cocktail, one should have whetted their appetite first. Mario's Cafe is something of an institution in Fitzroy. They like to keep things simple: breakfast all day and a Napoli pasta, which is a must-try. It's not Michelin-starred, but the authentic vibe and no-fuss food had kept it in business for 20 years. For something a bit fancier, try The Wilde, a gastropub that changes their menu almost daily to make use of all their available ingredients. A note to carnivores: head chef Howard Stamp knows his meats, so order a steak and you won't regret it. A favorite for the Hipster crowd is GRUB's Airstream Trailer kitchen and Eclectic urban garden/ping pong table den in the warehouses behind it on Moore street.


tarlo & graham, Gertrude Street